Free Wedding Speech Ideas

Everything You Really Need To Know
Find the cheap wedding ideas you are looking for:
There are lots of websites offering free wedding speech ideas and they are a great place to start, especially if you are feeling the pressure and starting to panic!

Through the years I have listened to a lot of speeches, some have been great and others very embarrassing (mainly for the person giving the speech). The best way to avoid this is to be prepared. Don't think that you can wing it!

Order Of Speeches
Knowledge is key so lets start with the wedding speech order;
first is the father of the bride who will finish with a toast to the bride and groom,
then the groom will reply and finish with a toast to the bridesmaids, 
next is the best-man who replies on behalf of the bridesmaids and finishes with a toast to the parents of the couple. 
Modern day equality could mean a maid of honor speech and then a speech by the father of the groom.
Some weddings even have an open mic type event where everyone can speak if they want to!
Writing Your Wedding Speech
When it comes to writing your speech there are a few things to think about. If you are not a confident public speaker you may want to keep the speech fairly short, compliment the appropriate people and thank the right people - it can be that simple!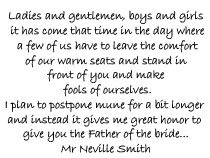 For those that want to elaborate it is best to mix sentimentality with humor, you don't want too much of one of these. Too much humor without any sentimentality does detract from the importance of the day and can look a bit crass. Too much sentimentality and everyone will be crying!
Anecdotes that have both humor and that can have a sentimental message work great.
If you search online for free wedding speech ideas there are some great free sites with great jokes that you can mix into your speech and there are also some really easy wedding speech books that you can use for inspiration, here are the best on Amazon at the moment.
Alternative Speech Ideas
I was at a wedding the other week where they decided to forget the formal speeches, mainly as they were unsure how long the guests could cope with some of the key members talking for hours!
Instead they had an open mic, hosted by the best-man where any guests could speak, tell a joke or a funny story - most were about the groom or wish the couple all the best. For this to work you don't need a room full of outgoing characters but you do need to tell people that this is happening. Guests can then think of their witty story or wish and be fully prepared for the day. It helps if you have some guaranteed speakers and have them dotted about the room.
Another note is to maybe think of having these speeches throughout the wedding breakfast rather than wait to the end when most people have enjoyed a glass of wine or two.
To add to the occassion you could have a prize for the best speech and all you have to do is sit back and enjoy, unless of course you want to join in!
If you want to join in the fun then it is a good idea to prepare your speech before the day, one bestman I met thought he didn't need to make any notes or practice and it was terrible. We were all sitting at the table wanting the speeches to be over as quickly as possible. A good online resource is Wedding Speeches 4 U, they have speech ideas for all of the main wedding party members, this way you will be nice and prepared for your big moment!
As an Amazon Associate I earn from qualifying purchases.
Other links on this site may lead to other companies that I'm associated with and this is how I can keep this site going and save you money on your wedding. 
Keep Up To Date With All The Latest Wedding Savings
top of page