Cheap Yellow Wedding Flowers
Find the cheap wedding ideas you are looking for:
Yellow wedding flowers add a gorgeous splash of color in your bouquet and also at your tables too.
Not only do they look fab they can also save your wedding budget too!
Top 10 Inexpensive Yellow Wedding Flowers
Photo by Nata S
Flower prices vary lots with changing seasons and there are also flowers that are so popular they are grown all year round like Roses and Chrysanthemums
Spring Wedding Flowers
Daffodils
Tulips
Chrysanthemums
Primroses - too short for your bouquet but great in pots as a centerpiece
Pansies - again would be great for centerpieces
Photo by Tenth Muse Photography

Summer Wedding Flowers

Roses
Chrysanthemums
Gerbera Daisies
Daisies - the yellow centers are bright enough to stand out
Wild flowers
Lower the flower costs on your Yellow Wedding Bouquet by adding larger flowers in contrasting colors
Photo by Alex Lovell-Troy
Fall Wedding Flowers
Sunflowers - they are great as they are so big you don't need that many to fill a bouquet or a vase.
Chrysanthemums
Photo by KMO
Winter Wedding Flowers

Amaryllis
Calla Lilly - they can be expensive but you only need to use a couple of stems in your bouquet for it to look amazing.
Where To Buy Cheap Yellow Flowers
When it comes to your wedding flowers you want to be able to buy them in bulk, that way it will keep the costs down.
You can buy wedding flowers from Costco and also Sam's Club and I am sure there is at least one of those near you, but if you want a big choice on flowers take a look at Fifty Flowers.
Here are just some of their great yellow flowers...
All of their prices are in bulk and they also have wedding boxes which include all of the flowers for your bouquet, your bridesmaids and maid of honor, flower girls, boutonnieres, corsages and centerpieces. Well worth a look.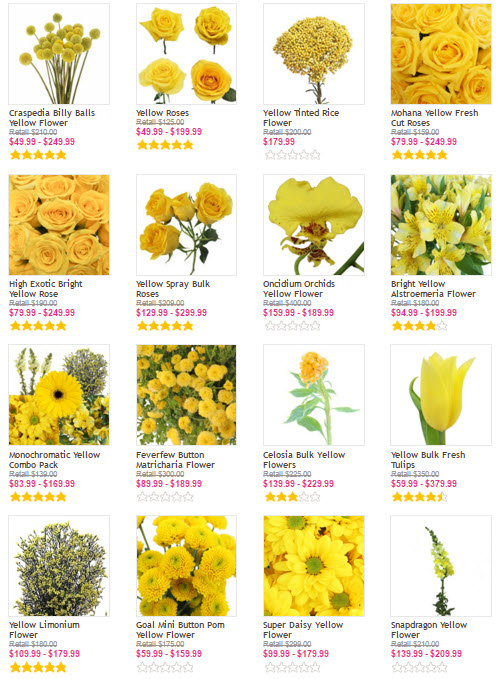 As an Amazon Associate I earn from qualifying purchases.
Other links on this site may lead to other companies that I'm associated with and this is how I can keep this site going and save you money on your wedding. 
Keep Up To Date With All The Latest Wedding Savings
top of page