Home

›
Jewelry
› Antique Rings
Antique Wedding Rings Guide

Find the cheap wedding ideas you are looking for:
Buying antique wedding rings rather than new can be a great way to save money and you could be buying a romantic piece of history, but what do you look for?
How can you avoid paying over the top for what ends up being a great piece of costume jewelry but not the real thing?
The best thing to remember is the old phrase "you pay for what you get" if the price seems to good to be true, then it probably is! Saying that, you can still get a bargain.
Silver, Gold & Platinum Hallmarks On Antique Wedding Rings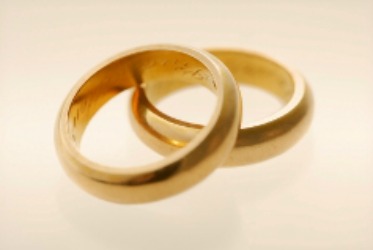 To make sure what you buy is real look for hallmarks, in the UK silver, gold and platinum are all stamped according to their purity. In other words all the precious metals are mixed with other metals to form alloys, the higher the percentage of precious metal or carat the higher the quality.
Gold is stamped as 9 carat or 375, 14 carat or 585, 18 carat or 750, 22 carat or 916. If it has GP this means gold plated and EP electro plated.
Some countries have no laws regulating the hallmarking of their gold so if you find a gold wedding ring with no marks it doesn't necessarily mean that it is just a gold coloured metal it could be the real thing! In this case your best bet is to make sure you buy from a reputable jeweller.
With platinum rings it is even harder! Platinum is rare and therefore expensive, you pay for what you get. The tricky part is that platinum was not hallmarked in the UK until after Jan 1st 1975 and up until Jan 1st 1999 the official standard of purity was 950 parts per 1000. Since 1999 there are 4 standards; 850, 900, 950 and 999.
There are some fantastic inexpensive antique wedding rings out there, you could be one of the lucky ones in getting a bargain just be careful before you buy. Look for a reputable dealer and get a certificate of authenticity or guarantee if possible. Happy hunting!
Where To Find Cheap Wedding Rings

Keep an eye out at local antique fairs and also local pawnbrokers and jewelry stores as quite often they will sell secondhand wedding rings.
Also how about adding a touch of family history to your wedding rings and see if your parents or grandparents maybe have their own parents wedding bands. That way you will know the history and love behind them.
Here are the latest antique wedding rings available on Ebay at the moment.

And there is also quite a bit of choice on Amazon too...
You May Also Like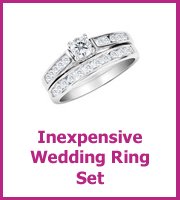 Cheap Wedding Ring Sets - how to save money on matching bands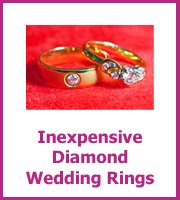 Inexpensive Diamond Wedding Rings - sparkle at a discount!

As an Amazon Associate I earn from qualifying purchases.
Other links on this site may lead to other companies that I'm associated with and this is how I can keep this site going and save you money on your wedding. 
Keep Up To Date With All The Latest Wedding Savings
top of page