Home

›
Jewelry & Accessories
› His And Her Rings
His & Her Cheap Wedding Sets
Find the cheap wedding ideas you are looking for:
Cheap wedding sets don't need to look cheap and if you shop carefully you will be able to get the best for your budget.
And there is something so romantic about having matching his and her wedding rings.
The price of the wedding bands will depend completely on the material used, titanium will be one of your cheapest options.
If you already have your engagement ring then you will want a wedding ring to match that as well, some engagement rings with a big stone suit having a shaped wedding ring that will fit nicely around the stone.
There are some really lovely sets available online at the moment.
How To Save Money On Your Wedding Rings
If you want to save a lot of money on your wedding rings you will need to look at the material and the level of craftsmanship.
It goes without saying that Gold will be more expensive than silver and Platinum will be more expensive than gold. So, can you live with a more inexpensive metal? If you can then you will save yourself loads.
Cheap options are:
One of the cheapest places to buy your matching wedding bands is
Amazon
.
Alternatives To Find Your Matching Wedding Rings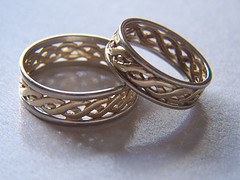 If you have antique fairs locally it is worth taking a look to see if they have any wedding rings that will match your 

engagement ring

. You will surprised at how many wedding rings will match and they won't cost as much as buying them as a set. Take a look at our 

antique ring guide

 to make sure you get what you are paying for.

If you are looking to buy your engagement ring and wedding ring at the same time, as a set then it is worth looking at the antique fairs as well. Think about the designs that you like and shop around, if your local 

jewelers

 has a sale on then it could be the best price, make sure you check online as well to ensure you know if you are getting a great deal.

One of the cheapest place online to buy your cheap wedding sets is Amazon, they have a huge range.

You can also get cheap wedding sets for both of you, this set could be for 3 pieces - the engagement ring and both of your wedding rings or you could have a 2 piece set that is both of your wedding rings. It is a lovely romantic touch that both of your rings match and the sets that are available have beautiful feminine rings and matching masculine rings, so don't panic neither of you will have to wear something that is too manly or too girly!

And don't just look at rings designed for weddings. There are lots of very talented jewelers and designers on etsy that will be able to create you a beautiful set of his and her's wedding rings just for the two of you.
As an Amazon Associate I earn from qualifying purchases.
Other links on this site may lead to other companies that I'm associated with and this is how I can keep this site going and save you money on your wedding. 
Keep Up To Date With All The Latest Wedding Savings
top of page