Home

›
Jewelry & Accessories
› White Gold
Cheap White Gold Wedding Band Guide

Find the cheap wedding ideas you are looking for: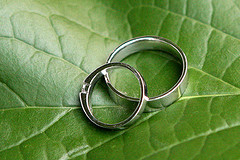 A cheap white gold wedding band is one of the cheapest way to have a white metal band, platinum is much more expensive and new metals such as titanium and palladium are still not as popular.
Although they are great alternatives and much harder wearing. My hubbie started with white gold and now has a Titanium ring.
We bought his at a local jewelry store and should have bought the size smaller as it slipped off his finger at the airport when he was carrying our suitcases for our honeymoon!

Where To Find Gorgeous Cheap White Gold

Good places to look for a cheap white gold wedding band are Amazon - they have some of the cheapest prices!
Also have a look at Ebay - as with everything that you buy through an auction site make sure you check with the seller exactly what you are buying and look at their feedback on recent items they have sold.
Here are my favorites available online at the moment:

Buying Advice
A couple of things worth noting with white gold is that it will tarnish over time, the gold will become slightly yellow, this is due to the metal not being pure as there will be yellow gold mixed into the band, but the color gives it a certain charm. Also if you do lots of hard work with your hands you will find that the ring will scratch.
When you buy white gold it comes under the same hallmarks as yellow gold and in the UK the hallmarks are; 9ct 375, 14ct 585, 18ct 750, 22ct 916 - the numbers will be marked onto the rings so you know the quality of the gold that you have bought and you can tell if you are buying what you think you are buying. In the States it is not a legal requirement to have a hallmark on gold but quite often they are there and they are much easier to understand than UK hallmarks! The US hallmarks are; 10K, 14K, 18K, 24K.
As an Amazon Associate I earn from qualifying purchases.
Other links on this site may lead to other companies that I'm associated with and this is how I can keep this site going and save you money on your wedding. 
Keep Up To Date With All The Latest Wedding Savings
top of page