HELP! I need to make this easier, on me and the $2000 wedding budget.
by Jill Axtell
(Astatula, Florida)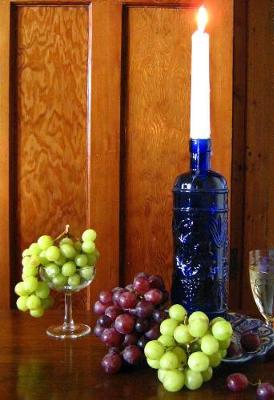 Italian Centerpiece Idea
Italian themed wedding & small reception. In January 2011. At 1 pm. In Florida. I have centerpieces of wine bottles with candles, grape leafs, red grapes and one sun flower. Inspired by Lady and the tramp, italian resturant scene, But fience refuses the red checked table cloths.

Also I think that The Maccorni Grill resturants set the perfect romantic feel I'm looking for. Dresses are Apple red. I have to figure out how to decorate the church and the fellowship hall for about 60-75 people. No Clue on where to start for decoration & flowers and such. Plan on finger foods, Punch, tea's and coffee. But also have no idea of what kind of finger foods to serve. To keep it italian themed.

I've read through the menu ideas and seen nothing I think fits.

Increasingly getting more depressed and frustrated the long I go on with being so clueless on how to accomplish this.
Romantic italy is what I'm reaching for.
I'm at the break of just forgetting this entire horrible idea of getting married, but the only thing making it a horrible idea of getting married is this whole planning thing and how to make it special for the groom and I on such a budget.

Hi Jill

Starting with the decorations, you could continue the centerpiece theme that you have and use a sunflower at the end of each pew, tied with red ribbon or white tull bow. You will also want a display at the front of the church and in this case see if you can use sunflowers as the center. It doesn't have to be many as they are such big flowers! Use three flowers in the center and then surround them with leaves. Ask your church if they would already have flowers that day and see if you can either get them to do them in your colors or provide the flowers and ask if they would put the arrangement together.

If you have provided the flowers for the church then see if they can be moved discretely into the fellowship hall while you are having photos. The pew bows you can have to decorate tables. For added decoration bring in lots of candles and sparkle to create a romantic glow. Everything looks better in candle light!

Have a look at wedding finger food reception menus for ideas for your own reception. Italian appetizers with cold meats, cheeses, Italian bread, tomatoes, olives, and mini pizzas would all fit really well with your theme.

Good luck with your plans.

Suz
Join in and write your own page! It's easy to do. How? Simply click here to return to wedding ideas questions.
As an Amazon Associate I earn from qualifying purchases.
Other links on this site may lead to other companies that I'm associated with and this is how I can keep this site going and save you money on your wedding. 
Keep Up To Date With All The Latest Wedding Savings
top of page