Home > Ideas & Plans > How To
How To Plan
An Inexpensive Wedding
Find the cheap wedding ideas you are looking for:
How to plan an inexpensive wedding has come about due to the number of emails for help I am receiving from brides visiting here. It seemed silly to not share the answers with all of you as you might find the solution to your own wedding dilemmas.

Where Do You Start?
The question that is asked the most is "Where do I start?" and the easiest way to answer this, is by getting organized!
Start by working out your budget, I know it is not the most exciting part of your wedding plans but without knowing how much you can spend at your wedding you will have no idea what you can afford. Your budget is the backbone of your wedding plans.
Next you will want to put together your guest list and any items that are must haves at your wedding, as these will need to be part of your wedding budget.
Armed with your budget and your guest numbers start to look at all of your local venues and work out the ones that you can afford and the ones that you love. If you are unable to find a venue that you love or one that you can afford you will need to be creative. Have a look at these cheap wedding venues to get some ideas. Your reception will be one of the biggest costs so getting this right early on in your planning will help you budget the rest of your wedding.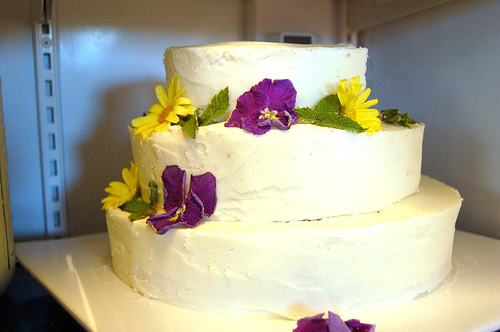 Making your own wedding cake would save you money
How To Plan An Inexpensive Wedding Tips
When you choose to have an inexpensive wedding you may have to make choices based on the cost of items. What I would say is don't always choose the cheapest option, make sure you are happy with your choice and really make sure that you have been quoted all of the costs. It would be horrible to have made a decision based on the cost and then find a whole load of extra charges added on after you have paid your deposit.

To help you remember everything you want and need at your wedding I have put together a free wedding checklist, print it out and work out what you need.
For those of you that need more specific help on how to plan an inexpensive wedding fill out the form below and I will answer it.
Need help with your cheap wedding ideas and plans?
Drop me a line with your wedding questions and I will get back to you.

Do you need help finding the perfect color or are you looking for something to wow your guests? Do you want help thinking of a theme? Are you unsure what to do next? Whatever your question I will get back to you.
What Other Visitors Have Said
Click below to see contributions from other visitors to this page...

As an Amazon Associate I earn from qualifying purchases.
Other links on this site may lead to other companies that I'm associated with and this is how I can keep this site going and save you money on your wedding. 
Keep Up To Date With All The Latest Wedding Savings
top of page