Cheap Wedding

›
Favor
› Sayings
Sweet Sayings For A Wedding Favor

Find the cheap wedding ideas you are looking for:
Sweet sayings for a wedding favor will mean that your guests are more likely to take them home, there is nothing worse than at the end of a wedding to see favors left on the tables as it is wasted money.
You can make your own wedding favor tags on the computer, all you will need is some colored card that will go through your printer without causing a major breakdown, a favorite font and if you use Microsoft Word you will find that there are free templates that you can use for labels. You could always use the templates available for business cards as these are a good size for a tag.
For an old fashioned retro look you could stick your label onto a brown cardboard luggage tag, these are fairly cheap and you can buy them from most stationers. Tie the label on with string to complete the look.
If you are looking for a favor label that is more sophisticated then match the colored card with your theme, print your favor saying onto cream paper and then mount on the card. Tie the tag on with ribbon.
You could personalize your favor tag with a photo of the two of you.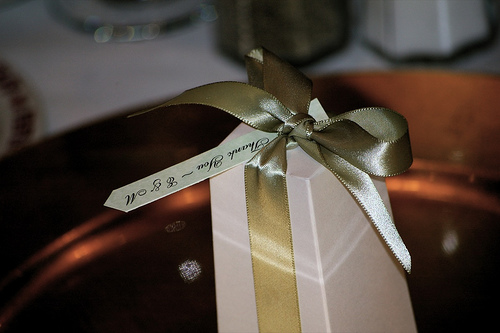 Photo by takanuk

Printable Wedding Favor Sayings
Feel free to use these sayings for a wedding favor, copy and paste them onto your template and your favors will be transformed! Add the wedding date and your new Mr and Mrs Name.
As we start on our way, thank you for sharing our day - Great for using with all favors.
Take a bit of today's joy to brighten tomorrow - Perfect for adding to a candle favor.

Candy Favor saying ideas are great to add to a little chocolate or bag of candy, you could also add them to jars to be used at the candy buffet if you are having one.
Love is like chocolate. Life is so much sweeter when it's shared!Here's wishing you sweet memoriesOf the day you shared with us.
The "sweetest" way to end this sweetest dayHugs & Kisses from the new Mr. & Mrs
You helped to make our day complete -Now please enjoy this little treat.
Love is like chocolate. Life is so much sweeter when it's shared!
Sharing Sweet Memories Together
Seed Packet Favor sayings are a beautiful way to personalize little packets of seeds for your guests to take away and enjoy at home.
Love grows bestIn the care of family and friends.
These Seeds and Watch Our Love Blossom and Grow
Love In Bloom
Help us Plant These Seeds of Love
Flowers can grow with water; but cannot survive without love
Tags For Your Favor Sayings

All favors would have the wow factor with a cute saying and a personalized tag!

As an Amazon Associate I earn from qualifying purchases.
Other links on this site may lead to other companies that I'm associated with and this is how I can keep this site going and save you money on your wedding. 
Keep Up To Date With All The Latest Wedding Savings
top of page