Wedding Planning During Covid Pandemic
Find the cheap wedding ideas you are looking for: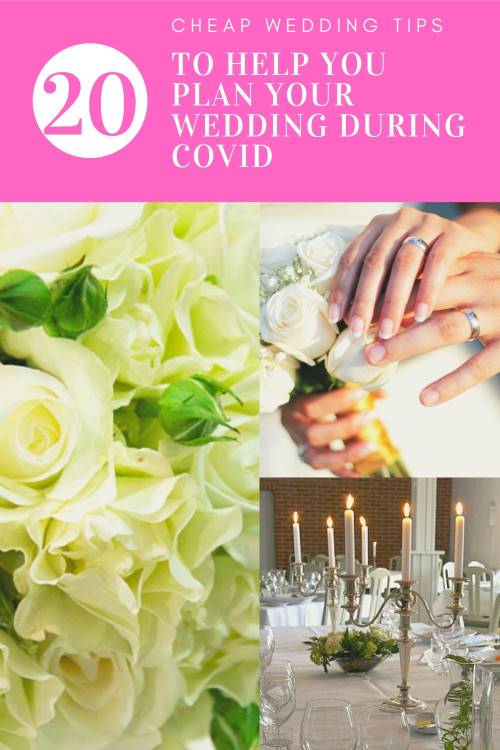 The recent Covid 19 Global Pandemic has changed the world as we know it and the worst part is it has devastated so many families. 
For now we have a new normal to get used to and I know that for some of you planning your weddings you may not know what to do. Hopefully the following checklist will help and I will add to it as things change.
The advice on this page was last updated on June 2nd 2020, we will update the page as soon as we hear anything new that could effect your wedding plans.
Stay safe
Suz x
If Your Wedding Has Been Postponed Due To Covid
If your wedding date has had to be moved you will need to 
Speak to all of your suppliers starting with your venue and try to arrange a new date that you are happy with. If your venue has been able to offer you a new date you will then need to contact all of your other suppliers to rearrange. 
Check your Wedding Insurance to see if you are covered, if you bought yours before the outbreak of Covid 19 you may be covered. The only way to be absolutely certain is to contact the insurers and find out.
Before you go ahead with a new date you will want to make sure the majority of your guests will be able to make it and you feel happy to go ahead. Check the venue and suppliers new cleaning and hygiene standards. 
It is quite likely that your venue will write a new contract to secure a new date, please do not feel you have to accept the date that they have given. Plus, please don't feel you have to pay any extra to secure a new date. I have heard of a number of brides where the venues have charged a lot more for next year and if they have not taken it then original deposits have been lost. Try and work with your venue to find a date and price that you are happy with.
Make a list of all of your suppliers so you know who else you need to contact, my free printable wedding checklist will help you make sure you haven't forgotten anyone.
You will need to let your guests know that your Wedding date has changed, you don't need to buy change-the-date cards a simple email will do, just make sure you ask for an rsvp so you know your numbers.
When you have confirmation of the numbers of guests able to make your new date you will need to let your venue and suppliers know closer to the time.
If some of your suppliers are unable to make the new date see if you are eligible for a refund of your deposit. Even if it is only some of the deposit it will be better than none.
If you have any items that have been personalized with your wedding date you may be able to have them re-made by your supplier with your new date at a discount of the original cost. It is definitely worth asking before you order everything new. Equally you could keep the original wedding date on your items as it is part of your Wedding history.
Planning Your Wedding During Covid Pandemic
It's fair to say that no one could have predicted the global pandemic and if you are trying to plan your wedding during this I really feel for you.
As I write this most stores and suppliers are starting to get back to work so you should be able to find everything that you are looking for, however for the immediate future there are probably going to be changes to how we can celebrate in large gatherings.
You may be restricted to the number of guests you can invite, currently that stands at no more than 10 people. 
You may find that the numbers that your venue can hold will be less if there are still distancing guidelines in place between households.
Travel restrictions could still be in place with quarantine compulsory when you arrive at a new country and when you return. This could restrict overseas weddings and also guests travelling from abroad. The choice is either to wait a bit longer when restrictions will be eased or plan in the extra time that will be needed for quarantine too. Read the latest travel advice from the US Customs and Border Protection here.
If you have a number of elderly or immune compromised guests they may not be able to make it.
If you still want to go ahead with your wedding on your original date it will be a small and intimate celebration. You could then choose to have your wedding reception at a later date when you can.
Keep an eye on the latest developments for events on the cdc website
Cheap Wedding Tips For 2021
If you are planning your Wedding for next year when life will hopefully be back to a new normal there are a few things worth considering especially if you are looking to save money.
You will need to get organized as venue dates and suppliers availability will be a lot less than normal, just think they will be looking to fit two years worth of weddings into one!
There will be a lot less new wedding dresses available as a large proportion of dresses come from China and these may not be able to get through as quickly and there will be less being made.
Take a look at buying a secondhand wedding dress and having it altered rather than worrying that your new wedding dress won't arrive in time. Plus it is a lot cheaper.
Think about having your wedding at home or in your backyard as you won't have to worry about any restrictions that the venue has put in place.
Think about the safety of your guests, you may not want to have a buffet for your wedding breakfast and instead have a plated service or have mini buffets at each table.
Keep Up To Date With All The Latest Wedding Savings
top of page