Budget Wedding Trends 2021
Find the cheap wedding ideas you are looking for:
There are some really stunning wedding trends for 2021 and although we have always been about doing what you want to do rather than following what everyone else is doing some of the trends are too cute to not have a look at.
Plus, with the trend to be more environmentally friendly and have less waste The Cheap Wedding trend is thankfully still going strong.
The pandemic is still a big concern for all of us and that will have a huge impact on how we choose to celebrate this year. You may want a small intimate wedding with just your closest family and friends or you may want to go large and see this as a time of celebrating that we are over the worst.
Whatever you choose please stay safe.
Suz x

2021 Cheap Wedding Dress Trends
As an Amazon Associate I earn from qualifying purchases.
Other links on this site may lead to other companies that I'm associated with and this is how I can keep this site going and save you money on your wedding. 
You are going to see a lot more simplicity in wedding dresses this year, with a growing trend in pockets! Love how practical that would be.
Cheap Informal Wedding Dresses
Wedding Dresses for under $100
And wedding dresses with sleeves are also gaining more popularity and these sleeves look stunning.
Gone are the more flamboyant dresses and in their place are simpler more classic designs.
Budget Wedding Decorations For 2021
2021 is all about big statement pieces, just think big balloons, lettering and large flowers.
And although big statement pieces sound as if they will be expensive (they can be) you will save money by not needing as many pieces.
Classic floral garlands are big for decorating tables - draped on the top table and cake tables and wherever else you can!
The easiest and cheapest way to re-create this yourself is to use ivy as it naturally grows in long garlands, plus it means wedded bliss and it's cheap. 
To do this yourself you will need
Long pieces of Ivy - ask friends and family if they have ivy growing in their backyard
Ribbon -optional
Pins
Flowers -optional
Pin the ivy in swags at the front of the tables and also drape along the table too.
Weave in ribbon to add a pop of color or tuck in flowers and you are done! Make sure you leave a fair bit of time to do this yourself as it is easy but will take some fiddling to get it just as you would like it.
Balloons make a big statement too and the best bit is they are relatively inexpensive.
Cheap Balloon decorating ideas here
Wedding Flowers
A simple hand-tied bouquet is very hot this year, if you have friends or family that could help you make yours then even better.
Plus big flowers are big this year, the great thing is you won't need so many to make a stunning bouquet.
And it's not all about fresh flowers, dried flowers bring a different texture to your decorations.
Backyard Weddings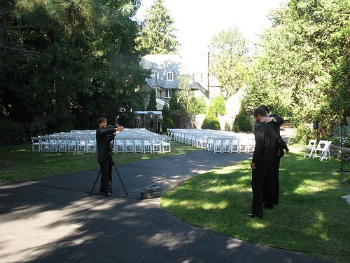 Backyard weddings are back this year, creating an intimate wedding reception.
They are great as you have immediately lost the cost of hiring space for your wedding and you are at home which makes for a much more relaxed wedding.
Check out our Backyard Wedding Guide
Wedding Food
2021 is all about being inclusive so rather than lots of choice it's about finding food options that everyone likes and can eat. It may be that you will serve vegetarian food to everyone or you have a BBQ or a Paella. Whatever you choose it's about reducing waste which is a good thing on anyone's budget!
We have lots of wedding food ideas here
There is a move away from elaborate dessert tables and instead have a look at platters of mini desserts which can be placed on tables and that your guests can help themselves to.
These you could easily buy yourself from a local supermarket and save money on dessert.
Or why not serve your wedding cake as dessert and save even more?
2021 Wedding Favors
Wedding favors have thankfully moved into being more practical and something that will be used after the wedding, again eliminating waste. It is awful when you come to the end of the wedding and you notice all of the wedding favors have been left behind.
Think practical everyday items
Salt and Pepper set
Anything to do with wine (ok I know that shouldn't be an everyday item but more of an every week item?! ;))
Picture frames
Keychains
Food!
Keep Up To Date With All The Latest Wedding Savings
top of page