Cheap Wedding

›
Floating Candles
› Bowls
Cheap Floating Candle Bowl Supplies
Find the cheap wedding ideas you are looking for:
When it comes to choosing a floating candle bowl for your centerpiece it will come down to three factors; price, size and height of the bowl.
The size off the bowl that you will need will depend on the size of your tables. You don't want a small bowl that will get lost on your tables and then you may need to budget for additional table decorations such as tealights or petals to make more of an impact.
Where To Buy Your Cheap Floating Candles 
Also, worth having a look at all of the really cheap wedding supplies and decorations you can find at Dollar Tree, with everything $1 you are bound to get a bargain. Plus, save yourself delivery costs by having your items delivered to your nearest store for free.
Check out the list of cheap floating candles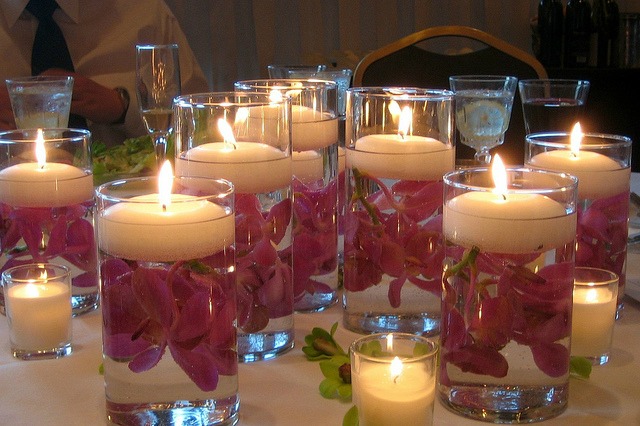 Add height to your floating candle centerpiece by using vases rather than bowls
Photo by Zoe Wang
The height of the bowl you choose will also be important as you want your guests to be able to see the decoration and floating candles within the bowl when they are seated as well as they can when they are standing. There is no point making the most gorgeous centerpiece and then no one can see in!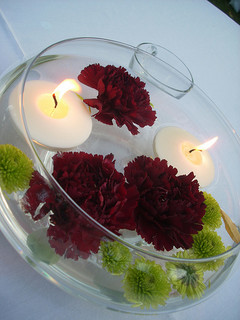 It is also worth thinking about all of the other things that will be on the table as the bowl may end up being hidden behind menus and table numbers. A fairly clear table is the best way to show off a stunning floating candle bowl centerpiece.

One bride ended up adding a glass candle holder in the middle of the bowl to add the height she wanted.
As well as the bowl and the candles you may want to also think about glass marbles or pebbles for the base of the bowl, plus petals or flowers to float in the water. This is one of the easiest centerpieces to make but you will still need to add some extra bits to make it stunning.
You May Also Be Interested In
Floating Candles in Wine Glasses for your centerpiece
As an Amazon Associate I earn from qualifying purchases.
Other links on this site may lead to other companies that I'm associated with and this is how I can keep this site going and save you money on your wedding. 
Keep Up To Date With All The Latest Wedding Savings
top of page