Home > Centerpieces > Rustic
Cheap Rustic Wedding Centerpieces
Find the cheap wedding ideas you are looking for:
I love rustic wedding centerpieces, firstly because I think they are stunning and natural and secondly because they are a relatively inexpensive way to decorate your tables.
Another best bit about them is that they don't have to be all straight edges and finished off – the roughness is what gives them their charm! Honest!
Woodland Themed Centerpieces
The first set of centerpieces is what I like to call the woodland set, mainly because there is a lot of wood involved. ;-)
Every centrepiece needs a base and a slice of tree works really well doing just that (I believe they are officially called wood cookies).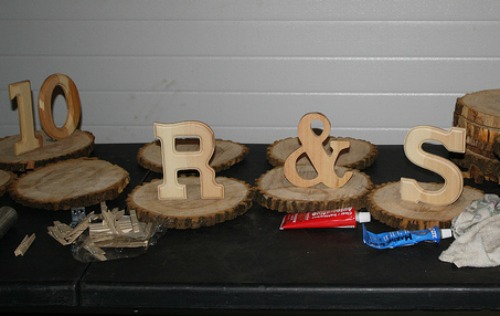 Photo by Regan Walsh
On top of your slices of wood you could have

3 pillar candles
Glass jars filled with flowers
Glass votives
Pinecones and Autumn leaves for the Fall
Evergreen sprigs, berries and candles for a Winter Wedding.
They will all look stunning against the wood.
You could also look at drilling holes in a log and use that as the centrepiece with tealights and flowers arranged in the holes and wrapped around.
Rustic Wedding Flower Centerpieces
The rustic flowers you see in the wedding magazines have not just been picked from the countryside, they have been bought and arranged so they don't look like they have been arranged if you know what I mean. All of this can be expensive.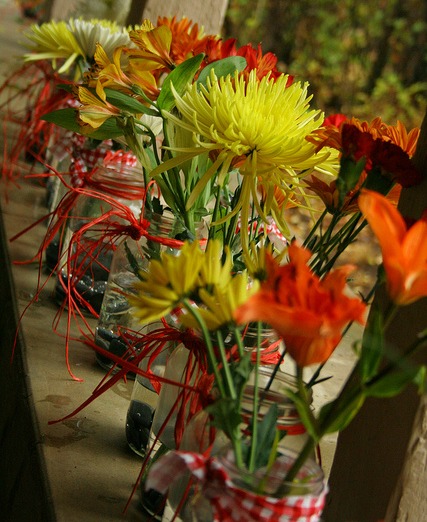 Flowers by Jinx
So how do you get your cheap flowers looking rustic and arty?

One way is to arrange them loosely in a jar, if that sounds a bit stressful you could tie the flowers into little mini bunches with twine and have them leaning in the jar.
An even easier way is to use glass bottles rather than jars as you can only fit a couple of flowers in the top.
Think less is more and also think about the height of the flowers, you want them all different heights to make it look bulkier. The same goes for the bottles and jars.
Color is also important, make sure your flowers are a variety of colors and not too well matched otherwise you can lose the rustic look.
You could look to arrange your jars on to your slices of wood for extra rustic loveliness.
Don't forget to pretty up your jars with ribbon, twine or lace.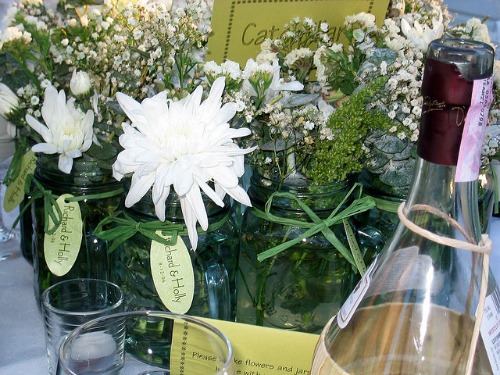 Photo by Amanda
You may also be interested in
As an Amazon Associate I earn from qualifying purchases.
Other links on this site may lead to other companies that I'm associated with and this is how I can keep this site going and save you money on your wedding. 
Keep Up To Date With All The Latest Wedding Savings
top of page