Home > Centerpieces > Easy
21 Easy Wedding Centerpieces
Find the cheap wedding ideas you are looking for:
Wedding centerpieces can be created fairly easily without the need for any real skill in flower arranging, here are my favorites to put together that really will not take much time at all.
1.       Three Pillar Candles, grouped together on a plate or dish and then surrounded by table confetti or petals or glass votive. The three candles should be of different heights to make it look more interesting and you can find them in lots of different colors that will match your wedding theme.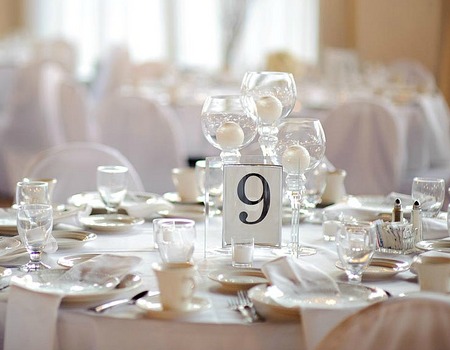 Photo by Corey Balazowich
2.       Floating candles in a bowl with rose petals and glass stones at the base. This looks really effective just remember what else is on the table so you don't crowd your centerpiece and it can't be seen. Also, floating candles don't last forever so you may need to replace them if you are having an evening reception.

3.       Plants – pots of herbs or flowering plants in season are already "arranged" so they just need placing on the table. This looks really great if you have long tables as you can space them out along the table.
4.       Glass jars with wild flowers, just be careful what you pick! This centerpiece is meant to look rustic so don't panic if it isn't neatly arranged.
5.       Glass bottles with one exotic flower.
6.       Tall vases with peacock feathers
7.       Tall vases with floating candles, you will need more than one vase to make this centerpiece wow.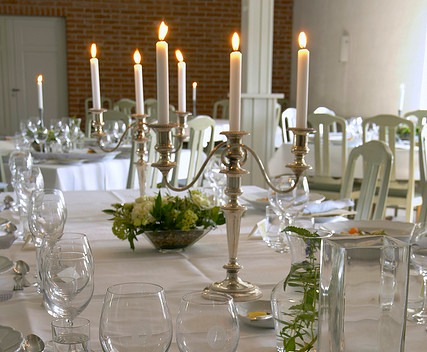 8.       Candleabras with very little else needed as they look very elegant.

9.       Small cube or short vases with one big flower such as a Hydrangea.
10.     Photo frames filled with either a photo of the two of you or a wedding photo of your relatives.
11.     Fall branches in a vase
12.     Spring branches in a vase full of blossom
13.       Mis-matched china filled with flowers and candles
14.       A gift box wrapped as a wedding gift
15.       A cake stand filled with your guests favors
16.       A cake stand with a mini wedding cake at each table (this fits in the easy category only if you buy the cake or make a beautiful simple one)
17.       Apothecary jars filled with wedding color candy
18.       Balloons – to make this look up to date use your wedding colors in the balloons and the more modern looking round balloons and keep the display simple with three balloons maximum.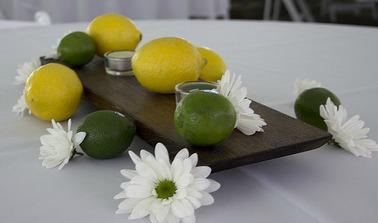 19.       Fruit centerpieces, with oranges or apples on a cake stand to give your centerpiece height or in a tall glass vase.
20.       Spring bulbs arranged in a glass bowl or dish.
21.       A huge variety of candleholders in various heights, shapes and sizes which you have spray painted to match your color scheme.
As an Amazon Associate I earn from qualifying purchases.
Other links on this site may lead to other companies that I'm associated with and this is how I can keep this site going and save you money on your wedding. 
Keep Up To Date With All The Latest Wedding Savings
top of page