Address A Wedding Invitation Like A Pro
Find the cheap wedding ideas you are looking for:
At the end of the day knowing how to address a wedding invitation is all down to common sense and a few 'rules', if you want to stick to them!
Wedding Invitation Etiquette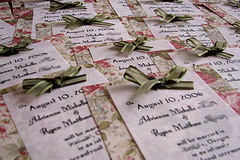 Most invitations are written in a formal style and to compliment that names should be written in full, including middle names! Ha ha ha ha! That has to be a laugh, those hidden names that most people don't want to be public property and you have full licence to request them all for your invitations, brilliant! Personally we didn't bother, a first name and a surname/ last name are fine.
If you are having a religious ceremony then your invite should read "bla and bla bla request the honor of your presence". If it is a non religious ceremony then it should read "bla and bla bla request the pleasure of your company." Replace the blas with either the bride and groom's names or the bride's parent's names or whoever is holding the celebration.
How To Address A Wedding Invitation Envelope
Another important factor is addressing the envelopes, the most bizarre tradition has to be sending the invites in 2 envelopes! Talk about a waste of money and trees. This dates back to when the footman would open the outside envelope with the address to reveal another envelope with just the guest's names on. Now if you have friends and family with a footman maybe it is best to stick with 2 envelopes, in all other cases I would just go with one envelope.
When you address a wedding invitation envelope, make sure you have the correct address and postcode, nothing worse than a return to sender stamped all over it. Plus remember to put the correct amount of postage on the envelope! My nephew was responsible for posting their wedding invitations and unfortunately there wasn't enough postage paid - we all ended up paying extra to receive our invitations! Needless to say this fact did not go unnoticed at the wedding speeches!
If one of your guests is a professional with a title, e.g Doctor then they will go first regardless of sex.
If your guests are not married then you need to address them with their full names and either put the person you know best on the envelope or both names.
If the couple is gay then address it to The Messrs and if they are a lesbian couple then address it to The Mesdames.
Wedding Invitation Wording Samples
Figuring out the rules of wedding invitations is much easier when you have some ideas to copy. Follow the links below for both traditional and more unique ways to address your wedding invites.
More Cheap Wedding Invitation Ideas
As an Amazon Associate I earn from qualifying purchases.
Other links on this site may lead to other companies that I'm associated with and this is how I can keep this site going and save you money on your wedding. 
Keep Up To Date With All The Latest Wedding Savings
top of page